Riverside, Ca –
On April 11, UCR faculty, students, alumni, staff, and friends gathered at the UCR Barbara & Art Culver Center of the Arts to celebrate the 50th anniversary of the Graduate School of Education. Following a reception, guests were treated to a series of "Ed Talks," short, engaging talks from current faculty engaged in research areas of neuroscience, the history of education, equity and access, and STEM.
To kick-off the event, Dean Thomas M. Smith welcomed guests and spoke about the impact of GSOE. "Our mission is Shaping Ideas, Minds, the Future," said Smith. "Over the past 50 years, GSOE has produced thousands of alumni who have done just that: cutting-edge researchers whose ideas have impacted educational policy and practice. Dedicated teachers who have shaped the minds of countless young people. And future focused thought leaders who are solving some of the most pressing issues in education. As we reflect on the past, we also keep an eye to the future, with a commitment to share our mission and expand our reach."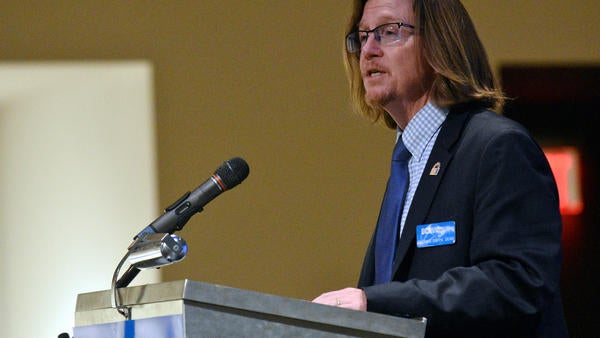 Provost and Executive Vice Chancellor Cynthia K. Larive reflected on the past 50 years of GSOE, highlighting the school's key milestones: The school first began in 1958 as a teacher education program within the College of Letters and Sciences. In 1967, the master's program in education was approved, and one year later, in 1968, the school formally became the School of Education, separating from the College of Letters and Sciences. GSOE's Ph.D. in education was approved in 1970, and in 2000, the School of Education was renamed the Graduate School of Education. 
Today, GSOE offers multiple master's, doctoral, teacher credential programs, and recently launched an undergraduate program that now has 400 enrolled students. Faculty and researchers provide transformative programs such as Project Moving Forward, the SEARCH Autism Family Center, the NASA/JPL-GSOE STEM Partnership, UCR AP Readiness, and the Institute for Teachers of Color (ITOC) that benefit  K-12 students, families, and educators both regionally, and nationally. 
The Graduate School of Education is ranked among the top 17% of all education programs by U.S. News & World Report, 2020.
Watch the videos below:
Katherine Stavropoulos, assistant professor
"Why Do You Want to Squeeze That Adorable Baby? Cute Aggression and the Brain"
Kinnari Atit, assistant professor
"Going Beyond Space: ​Taking an Interdisciplinary Approach to Understanding and Bolstering Students' Spatial Skills​"
 
Margaret Nash, professor
"An Unacknowledged Legacy: Land Grant Colleges and Indian Dispossession"
 
Louie  F. Rodríguez, associate dean and associate professor
"Who Do Our Students See in the Mirror? How Teachers Can Help Students to Gaze Into Their Academic Espejo (Mirror)"