Louie F. Rodríguez, interim dean of UCR's Graduate School of Education, was inducted into San Bernardino Valley College's Alumni Hall of Fame at their official ceremony on Friday, November 8. The San Bernardino Valley College Alumni Hall of Fame was established by the SBVC Alumni Association in 1989, and honors former students whose lives are exemplary for both their career accomplishments and their contribution to the well-being of others. Inductees are nominated by the community and chosen through a selection process carried out by the Alumni Association Hall of Fame Committee.
An Inland Empire native, Rodríguez began his journey into higher education at the college, where he earned his associate's degree in 1995. He went on to earn his bachelor's from California State University, San Bernardino, and three graduate degrees, including his doctorate, from Harvard Graduate School of Education. Rodríguez has held several positions in education throughout his career, including serving as a middle-school counselor, math teacher, and faculty at both California State University, San Bernardino and Florida International University in Miami before joining UC Riverside Graduate School of Education as interim dean and professor. He is the founding Director of the Center for Educational Transformation, author of nearly 50 publications, and has received numerous honors including the American Education Research Association (AERA) Hispanic Research Issues SIG Award for Research in Elementary, Secondary, and Postsecondary Education in 2019, Outstanding Latino Faculty by the American Association of Hispanics in Higher Education (AAHHE) in 2015, and was designated as an "Emerging Leader" in 2014 by Phi Delta Kappa International in Washington, DC in 2014.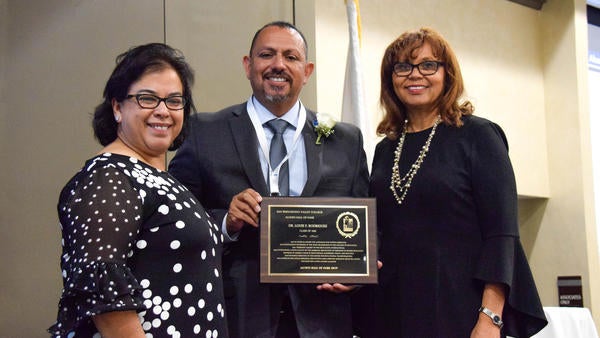 During his acceptance speech, Rodríguez provided the following advice to students at his alma mater: "Students, know who you are, identify a mentor, get connected to programs, dream big, surround yourself with excellence, and be a leader. After you graduate from SBVC, always find ways to give back to your community." 
View the gallery of photos from the event here.