Higher Education Administration and Policy M.Ed. Program
The Higher Education Administration and Policy master's program provides you with the tools and knowledge you need to research and understand the complex challenges facing higher education administration and policymakers today. The program's curriculum prepares you for a variety of roles in higher education, such as student affairs, admissions, or academic outreach, or to pursue a Ph.D. program.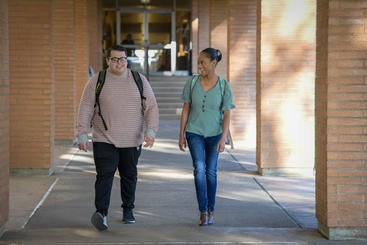 Some of the courses you may take include:
EDUC 248T: Understanding Research in Higher Education
EDUC 248F: Financing Higher Education
EDUC 248G: Higher Education Governance
EDUC 248I: Critical Issues in Higher Education
EDUC 248M: The Community College
EDUC 248P: Historical Perspectives on Campus Life
EDUC 248S: The College Student
EDUC 248W: Whiteness, Power and Privilege
---
Students enrolled in the Higher Education and Administration and Policy master's program will take 36 units/9 classes. After completing the coursework, students complete an analytical report integrating content from higher education courses with practice on the topic of their choice. This program is available for Fall, Winter, and Spring admission.
See our full curriculum overview
---
Recent graduates are:
Academic advisors
Residence life and housing coordinators
Multicultural affairs coordinators
Athletics advisors
Student academic success program coordinators
International student and service learning programs coordinators
Financial aid officers
Admissions officers
Academic alumni relations coordinators
Campus recreation coordinators
Career services coordinators

---
Meet the Higher Education Administration and Policy Faculty
We encourage prospective students to reach out to faculty whose research interests align with their own.
Faculty and Research 
Faculty Research Highlights
Athletics
College access
Critical race theory
Diversity & inclusion
Faculty
Governance
Leadership
Racial equity
Read more about our faculty research.