Job hunting can be stressful for even the most seasoned professional, and adequately preparing for an interview can often be the key to landing the job of your dreams.
The Teacher Education Program's annual "Mock Interview Day" provides student teachers with the opportunity to refine their interviewing skills and receive advice and tips from a distinguished panel of potential employers.  
"This event is an invaluable opportunity for our students to prepare for interviews and receive feedback from educators and administrators who often times are the very ones who would be hiring teachers for positions," said Dr. JerMara Davis-Welch, Assistant Dean & Director of Teacher Education.
This year, a panel of 14 students (comprised of Multiple-Subject, Single-Subject, and Education Specialist candidates) were asked questions about classroom skills, such as successful integration of technology in the classroom, as well as teaching strategies and how those link to the Common Core State Standards. The "mock" interviews were conducted in front of an audience of peer student teachers, university supervisors, and program administrators.
This year's guest "interviewer" panelists included:
Daniel Brooks, Director of Personnel, Jurupa USD

Wilson Cuellar, Assistant Director, Certified Personnel, Riverside USD

Dr. Marcus Funchess, Director, Certified Human Resources, San Bernardino City USD

Dr. Kip Meyer, Assistant Superintendent, Student & Instructional Support Services, Lake Elsinore USD

Martha Duenas, Director, English Learner Services, Fontana USD

Juan Cabral, Assistant Superintendent, Human Resources, Val Verde USD
One of the tips that the panelists provided: Be specific. They encouraged the student teachers to use an example, or to highlight specific skills they gained as a student teacher in the classroom. The panelists also told the students that at least one person on the hiring committee will be a specialist in their specific area of study, so they should also be specific about their specialization.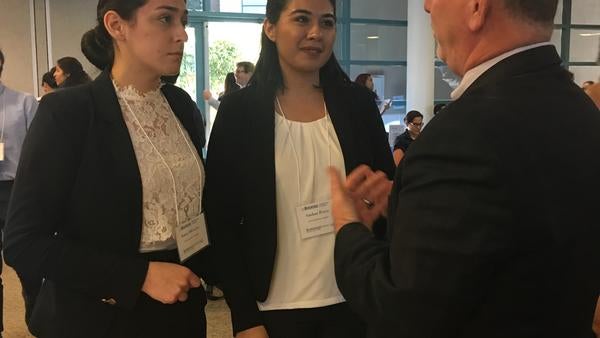 The panelists emphasized the importance of working on your personal brand, and making the interviewers also feel comfortable. "Make eye contact and connect with the person. When we are interviewing you, many times, we are also seeing if we can work with you as our future colleague," said Dr. Meyer.
Providing feedback to the interviewees, Daniel Brooks said, "When we are hiring a teacher, we are looking for people who have a love for kids, and that really came through. It is important to make that part of your personal brand."
The event was well received by the students in the program. "I learned that storytelling is the most important part of the interview process. You need to be able to tell specific examples of how you helped children. In these stories you should share your passion for teaching and for students. The mock interview process is unique and prepared me for job fairs the following week," said Jacob Winter, an M.Ed. Candidate and one of the participating panelists.
Jade Arbabi, an audience participant and teacher credential candidate added, "The event gave me insight into what to expect from future interviews. I took a lot of notes so that when I go through the process, I will be that much more prepared."
The Mock-Interview Day is just one of the events that GSOE's Teacher Education Program hosts to help student teachers prepare for their careers in education.
For more information on the TE Program, visit their website.