Riverside, Ca –
"I am just a kid from Lake Los Angeles that wants to make a change, not just in my community, but in this world," said first-generation undergraduate student, Francisco "Panchito" J. Ramirez Rueda, who is graduating this year with his B.A. in education and sociology. In August, he heads to the University of Michigan on a full-ride scholarship to pursue a Master's degree in Educational Leadership and Policy.
As a boy growing up in Lake Los Angeles, a small rural town in Los Angeles County, Panchito would have never imagined that he would be embarking on this particular journey. For most of his life, he was a star soccer player. And, for most of his life, academics played a supporting role in his soccer career. 
"My parents put me in soccer when I was four years old as a way to help me get all my energy out. It became a huge part of my life and our family. We would bond over soccer, and travel to games together. But my mom would tell me that I had to keep my grades up to play, so that motivated me to get good grades."

His parents made countless sacrifices so he could play the sport, even once using their rent money to send him to a soccer tournament in Dallas, Texas. Panchito's dreams of making it big came to a halt when, during his senior year of high school, he broke his fibula, dislocated his ankle, and tore several ligaments. He had to get a plate and 10 screws, putting an end to his last high school soccer season.
Undeterred, Panchito turned his focus to academics. He graduated top of his class and enrolled at UC Riverside. He had rehabilitated his leg enough to make the soccer team as a freshman, but struggled to completely recover from his injury and was cut from the team sophomore year. He trained every day and eventually made the team again as a junior. As a student-athlete, he found himself trying to juggle the demands of academics and soccer, all while working a few jobs to make ends meet.
Panchito recounts the aha moment when he realized there were other opportunities for him besides soccer.
"I was speaking with my mentor, Gabe Mendoza, who is a former student-athlete for the men's soccer program and current assistant coordinator for the Academic Intervention Program here on campus. He told me, 'Panchito, know that you are capable of doing much more than just soccer. Soccer brought you here, but it's up to you to make the best out of it'. And I thought about what he said, and I had to ask myself, 'Am I really going to go pro?' Probably not. Is soccer going to benefit me in the future? No. So what can I do?' That's when I met Dr. Louie Rodriguez."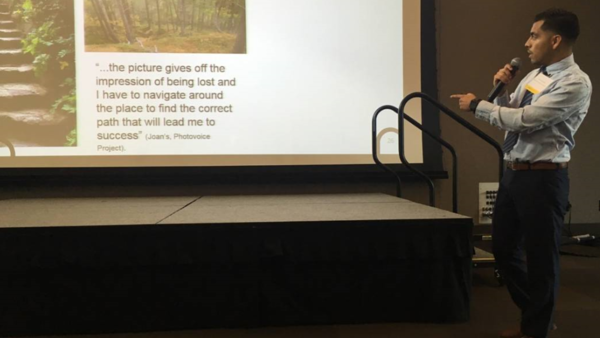 Panchito credits Dr. Louie Rodriguez, associate dean of undergraduate education and associate professor in the Graduate School of Education, and his course "Education for Critical Consciousness" in particular, with igniting his passion for research and service. He quit the soccer team to work as a research assistant in Dr. Rodriguez's center, Center for Educational Transformation, and pursued his newfound passion wholeheartedly. 

He traveled to D.C. as part of the UCDC program, interning with the League of United Latin American Citizens's (LULAC), and stayed on for the summer to work as a marketing and communication intern for LULAC National Education Service Center (LNESC). In Fall 2018, he was awarded a Presidential Public Service Fellowship to intern at the California Department of Education as part of the UC Sacramento (UCCS) program. During this same year, with the help of GSOE's Dr. Gregory Palardy, Panchito received the undergraduate research mini-grant  to conduct his own independent research on understanding the factors that impact Latinx college students' resiliency, persistence, and post-secondary success. 
Two highlights of Panchito's student journey, however, were debuting for the men's soccer program against UC Irvine on October 12, 2016, and hosting a workshop along with his brother, UCR junior Christian Ramirez, and other GSOE undergraduates, about the power of storytelling at the Alumni of Color Conference at Harvard Graduate School of Education. 
"Coming from where I came from, I never thought I would set foot at Harvard. That was one of the best days of my life," Panchito said. When the time came to apply to graduate programs, Panchito applied to Columbia University (Teachers College) and the University of Michigan, and was accepted to both universities.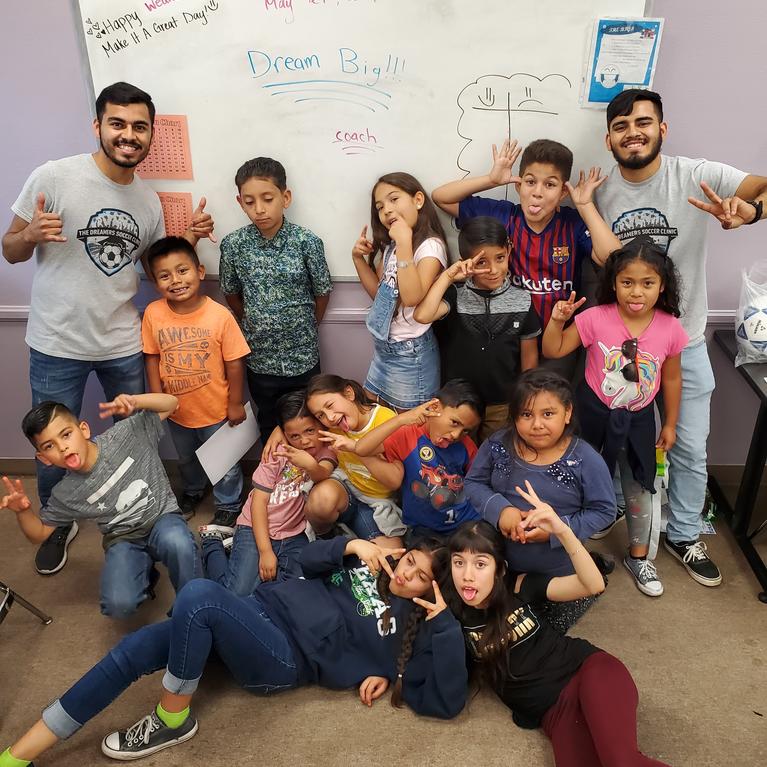 Panchito is still passionate about soccer, and blends his love of service and the sport through his work with The Dreamers Soccer Clinic, a non-profit that he and his brother, Christian, started for underprivileged youth. The organization provides soccer clinics, after-school programs, mentorship, and educational workshops in hopes to inspire kids to dream big and pursue higher education.
"I want to make sure these kids know they can be the next lawyer, the next doctor, whatever they want to be. It doesn't matter where you come from, anything is possible, and it is our duty as educators, parents, and community members to believe in them and in their dreams."