Louie Rodríguez likes to draw from a saying by Brazilian philosopher Paulo Freire that it's not just about "reading the word but reading the world" in his approach to education.
"I'm a big champion for promoting education, not just in terms of one's own human capital growth, but also how we can use our education to transform opportunities for others and help build community," he said.
Rodríguez, 43, took over July 1 as interim dean of UCR's Graduate School of Education, or GSOE, where he hopes to continue his work promoting student success and community involvement. He was appointed to the position by interim Provost and Executive Vice Chancellor Thomas Smith, who served as dean of GSOE until he was promoted to his current post.
"I am looking forward to the opportunity," Rodríguez said. "I hope to continue to develop the GSOE, create opportunities for faculty, promote student success, and continue to cultivate connections in the Inland Empire and beyond."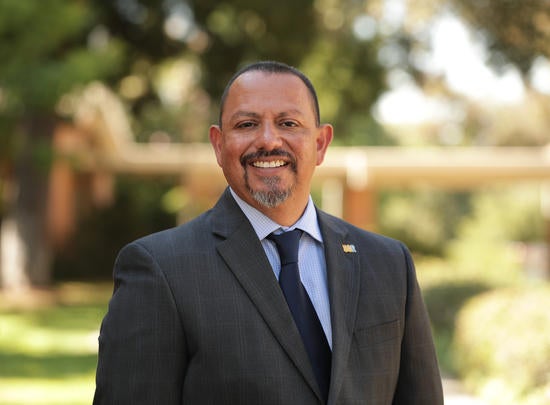 A professor of education, Rodríguez joined UCR in 2016 and has served as associate dean for undergraduate education programs at GSOE since August 2017. In that role, he helped expand offerings the school, which celebrated its 50th anniversary last year.
The school went from zero undergraduates two years ago to expecting 500 this fall. Rodríguez oversaw efforts that included preparing faculty members for larger classes, creating curriculum, and providing research opportunities to undergraduate students.
"Undergraduates bring a lot of energy and ideas to the GSOE and the major," Rodríguez said.
As interim dean, Rodríguez said he hopes to continue to foster connections between undergraduate and graduate students. Another priority is expanding relationships between the school and community organizations and institutions, such as K-12 schools, community colleges, nonprofits, and other government agencies.
The goal is to "create some synergy, a kind of seamless connection between what we do here in education and the community that we serve," he said.
As the school's Bank of America Chair in Educational Leadership, Policy, and Practice, Rodríguez has focused on research looking at how to improve regional public education from kindergarten through community college.
He sees the school's role not only as creating the next generation of educators, but using its research to improve education policy and determine how to improve student success through community engagement, school culture, and educational equity.
 "Our faculty are doing a lot of amazing things, and I'd like us to be more intentional in how we translate that to practice, policy, and pedagogy across institutions," Rodríguez said.
The Center for Educational Transformation, which Rodríguez founded, is a product of that philosophy. Its projects include a partnership with Roosevelt High School in the Corona-Norco Unified School District, in which researchers work with teachers to create curriculum that is more relevant to students, especially students of color.
Another effort — the IE Latina/o/x Doctors Project — aims to highlight Latinos and Latinas with doctorates in the Inland area, creating a database and telling their stories in books and through social media to inspire students.
An Inland Empire native who was born in San Bernardino and raised in Colton, Rodríguez said he wants to shift the narrative on excellence in the region.
He became interested in education and the pathways to academic achievement while at Cal State San Bernardino. Rodríguez noticed that some persisted in education while others struggled. 
"Creating educational opportunities remains a key priority in my own work," he said. "I want us to better understand what's working, why, and how can we learn from our own policies, practices, and pedagogies to promote excellence."  
Rodríguez said his trajectory was shaped by a counselor at San Bernardino Valley College who wrote a college transfer plan for him. The Ronald McNair Scholars program he was part of while at Cal State San Bernardino also led to a summer research program at Harvard University between his junior and senior years.
A mentor in the program encouraged him to apply to Harvard for graduate school. Rodríguez went on to earn two master's degrees and a doctorate from the Harvard Graduate School of Education. He taught at Florida International University and at Cal State San Bernardino before joining UCR.
"My own story kind of exemplifies what educational opportunity can do for people," he said.
As a first-generation student born to a working-class family, Rodríguez said his experience is similar to many of his students, and that he likes to serve as a mentor and guide to them.
"Hopefully, I can be the story or narrative they look to as a potential pathway in term of what they decide to with their own career," he said.
This was originally published in InsideUCR.