For Kenyon Lee Whitman, his research is personal: Kenyon is a former foster youth who was in several foster placements before finally finding stable placement with a foster mom, who he now calls "grandmother," until he was emancipated at age 18. 
When he entered Fresno State as a first-generation college student, he was fortunate to find the support, mentorship, and resources to help him navigate his higher education experience through the school's Renaissance Scholars program, a program that serves current and former foster youth pursuing their undergraduate degrees. 
Now, as a Ph.D. candidate in the Higher Education Administration and Policy program in UCR's Graduate School of Education, Kenyon researches the unique experiences of underrepresented students in higher education, with a focus on the racialized experiences of foster youth.
He also serves as the director of the Office of Foster Youth Support Services, UCR's own foster support services similar to the one that supported Kenyon throughout his college experience. 
Kenyon directs the office's flagship Guardian Scholars program, a holistic program of about 30 former foster youth who were emancipated from or reach adulthood in the foster care system, and enter college with no one to help them navigate their college experience. Program services include access to year-round housing, a summer internship program, educational services, and food and hygiene supplies. Perhaps just as important is the kinship and community the program provides.
"I really think the community aspect is one of the hallmarks of our program, including holiday dinners often hosted by program founder and executive director, Dr. Tuppett Gates. It's those things that can get missed in the day-to-day, when student can become an SID number, that we offer. We look at them as a person—beyond what just happens to them at UCR," he said.
Kenyon didn't originally plan for a career in higher education. He majored in kinesiology and thought he would pursue a career in physical therapy. It wasn't until he was completing his undergraduate program's fieldwork hours at an athletic training office, while also interning for the Renaissance Scholars program, that he realized he wanted to pursue a career in student affairs, specifically serving unique student populations.   
"I loved going to my job at Renaissance Scholars, and I would dread going to my fieldwork hours. I had to have that honest conversation with myself, that I legitimately like being in this space," Kenyon said. 
Professors and mentors encouraged Kenyon to pursue a career in higher education, and he earned a Master's degree before beginning a Ph.D. program in higher education at the University of San Diego.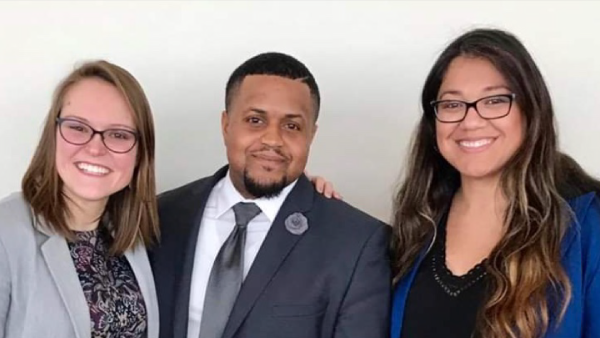 After working with a variety of student populations, including residential life and outreach, he was offered the position at UCR's Office of Foster Youth Support Services, and shortly thereafter transferred from the University of San Diego to UC Riverside to continue his doctoral studies.
Kenyon credits meeting GSOE's Drs. Eddie Comeaux, Tara Yosso, and his current advisor, Uma Jayakumar, and their expertise and research in critical theory and marginalized populations with inspiring him to study at GSOE.
"Having Dr. Jayakumar as my advisor has really brought my research to a whole new level. She's brilliant, and the racial justice work she does, and to see how she pieces things together, has really helped me," he said. "All the professors at GSOE really challenge you in the classroom. Also, being able to be in conversation with my peers, about their research, has really pushed me as well."
Once Kenyon earns his Ph.D., he plans to pursue a position as a faculty member, advancing scholarship and advocacy for marginalized populations. "We live in a very tense political and social climate, and scholars, policy makers, and organizers are needed more than ever, and for me, being able to contribute to that through my scholarship and research, would be a privilege."
Kenyon Lee Whitman will be presenting "Understanding the Racialized Experiences of Foster Youth" at GSOE's upcoming "Equity & Justice Research Series"
Thurs., Jan. 30, Sproul 1215, 12pm-1pm
No RSVP required

Abstract: Research shows that when given the support, foster youth perform equal to or better than their non-foster youth peers in the college setting. However, across the nation foster youth remain underrepresented and underserved within higher education. Although 80% of foster youth aspire to go to college, only 10% enroll in college, and about 3% will obtain a bachelor's degree. Many colleges maintain an assumption that all students have family privilege as they pursue a college degree; this leaves foster youth to navigate the complexities of higher education without this expected support. 
The disproportionate representation of Black and Latinx youth in foster care also means many foster youth hold multiple marginalized identities, this further exacerbates the challenges they experience on college campuses. Centering the narratives of foster youth, this talk will discuss their racialized educational experiences and how they navigate the postsecondary landscape.  It will also share the support systems that foster youth use to navigate and resist their multiple forms of marginalization. Lastly, this talk will offer recommendations that colleges can use to create supportive and racially inclusive environments.