This past year, teachers across the country have had to adapt to the challenges presented by Covid and remote learning. In honor of their incredible dedication, and national Teacher Appreciation Week, the Graduate School of Education at UC Riverside is recognizing three local alumni educators who have demonstrated "a strong commitment to teaching and learning during the pandemic," as part of GSOE's inaugural Alumni Excellence in Education Awards program.
"This past year has presented unprecedented challenges for teachers, who continue to rise to the occasion. We are thrilled to recognize these three alumni who have demonstrated an unwavering commitment to students, parents, communities, and their schools," said Interim Dean Louie Rodríguez. "It is critically important that we recognize and learn from the educational excellence that is cultivated and practiced in classrooms across the region. These educators exemplify the hope that education can provide in our communities."
---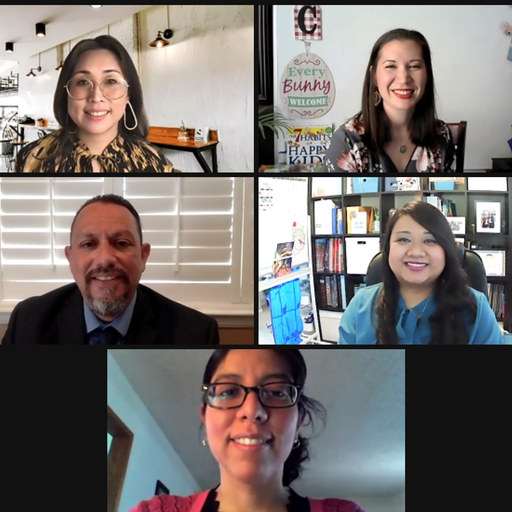 The GSOE awards panel selected the following three outstanding alumni, who most closely met the criteria, from several nominations submitted by community members. The honorees received a gift certificate, a GSOE crystal award, and were celebrated among their friends, families, colleagues, and school administrators at a virtual celebration hosted by Interim Dean Louie Rodríguez, with remarks from Assistant Dean and Director of Teacher Education Sumer Seiki.
---
Ritta Aros earned a B.A. in mathematics in 2004 and a teaching credential in 2005. She is currently a high school math teacher at Slover Mountain High School in the Colton Joint Unified School District. Nomination letters to the awards committee recognized Aros for her role in mentoring staff by "providing tremendous technical support to all teachers regarding distance learning (DL) tools and practices; navigating and explaining the complicated collective bargaining implications of DL as the site's union representative; delivering quality professional development on DL strategies; and serving as a mentor to new teachers in the District." Aros was also praised for delivering rigorous and high-quality lessons using a variety of tools, and integrating wellness and mental health into her lessons.
After graduation, Aros began teaching at Cesar Chavez Middle School in San Bernardino City Unified, but it wasn't until she started teaching at Slover Mountain Continuation High School in Colton Joint Unified the following year that she discovered a genuine passion for alternative education.
"During my 16 years as an educator, I have always been dedicated to continue learning and improving my teaching practice. As a lifelong learner, I've attended a plethora of workshops, conferences, and webinars that have sharpened my teaching skills as well as reinforced my teacher training," said Aros. "My current focus at trainings includes EL strategies in math, educational technology, math literacy, and how to continue advocating for my students' best interests."
As a teacher leader, Aros has served on many committees at the district and school level, including Leadership, Western Association of Schools and Colleges Lead, Positive Behavioral Interventions and Support, School Site Council, and Curriculum Council.
Aros has also been part of the district's EdTech - Future Ready Group since 2018, and an Induction Coach since 2014 where she "enjoys mentoring new teachers, where I learn just as much from them as I hope they do from me as a fellow colleague." Since 2012, Aros has been her site's union representative which "has taught me a lot about leadership and advocacy."
---
Jennifer Covington and Eleanor Holm, who both earned their B.A.s in 2005 and Master's in Education with multiple subject credential in 2006, are third-grade partner teachers at Seneca Elementary in the Moreno Valley Unified District. The pair were recognized for their work engaging students and parents this past year. According to the nomination letter submitted to the GSOE awards panel, both educators were praised for "incorporating relevant and important topics during distance learning, including holding virtual class elections so their students can learn the importance of voting and civic engagement; addressing social and emotional learning by creating clubs in breakout rooms on Zoom; utilizing social media, and creating class websites for parents and students to explore; and making sure that parents understand the new technology platforms."
Jennifer Covington says her "passion for helping" has been instrumental in partnering with parents and staff to set students up for success, especially this past year with distance learning. Considering 21st-century teaching strategies and students' different learning modalities and comfort levels, she concentrates on spicing things up, which also helps differentiated learning. She has the utmost respect for students, their families, and their well-being. Working as a team, she has 100% attendance, all with cameras on, engaged, and motivated to learn.
Covington is a lead for Student Success Team Meetings, lifting families up who are struggling, and providing them with strategies and plans for moving forward. As a part of the district's Joint Peer Assistance and Review Panel, she aids teachers across the district, proving them with tools to help them be successful in the classroom. She also serves as a Co-Coordinator and Club Advisor for the school's After School Clubs program, which gives students a place to socialize with peers, even during a pandemic. Covington says that she "wholeheartedly believes in being a TEAM (Together, Everyone Achieves More)."
---
Eleanor Holm has a passion for STEAM (science, technology, engineering, the arts, and mathematics) education, and holds several certifications in technology. As a life-long learner, she says that she enjoys connecting and collaborating with a community of educators, and has also had the opportunity to work with the school's PTA.
"In my 16 years of teaching, I have found that collaboration and working together with both colleagues and students is what leads to success for students and our schools. I have had the opportunity to teach all elementary grade levels (K-5), so I know where students are coming from and where they need to go," she said. "I strive to create a community of learners that nurtures growth in a positive, fun, hands-on, and technology full environment."
Holm and her husband are both educators, and graduates of UCR."After graduation, I couldn't wait to start teaching! We are a family of teachers. I am a proud Highlander and am honored to receive the UCR Graduate School of Education's Alumni Excellence Award," she said.
---